Audi Pure Imagination
January 2017 ––


The fine peoples at

BBH London

brought Mr. Munkowitz on-board to direct an extra-saucy

Audi A5

Global Campaign through his lovely reps at

Nexus Studios.

The commercial, produced over the course of a 6 month production cycle with

The Mill London

, recreates the vision of a 'super-computer' and aims to answer the question; "What if artificial intelligence could dream?"

Starting from what feels like the inner-core of the machine, the film takes viewers on a vivid journey, through a world of data fabric, anamorphic light spheres, graceful movement, and an alternative reality; featuring segments of continuous and fast-travelling shots to ensure that an air of intensity and excitement remains throughout the dreamscape.
---
The Concept
–– 02

Artificial intelligence

–– it is the bridge between man and machine, the perfect blend of computing power and human intelligence. But if AI can replicate all aspects of human intelligence, will it be sentient? Will it have conscious experience? Emotion? Will it dream? If it does indeed Dream, what will it look like? That is what this film is, the visualisation of a dream – a deep dream by a higher, evolving artificial intelligence.

But what is the dream? It is one of creation, of progression, of evolution. It builds the perfect car, taking ideas from the world, unrestrained. But it is still a machine. Organised and ordered. From this order comes abstraction; the chaos of emotion channelled through a system of order, creating a freeform dream that is both digital and analogue, electronic and emotional.

As our dream ensues, these iconic images behave like constellations, forming out of particle data and quickly dispersing again into the next thought. The AI's cognitive processes constantly firing, sparking, materializing new ideas, new images, in a continual freeform thought process.

There is a sense of something learning, the first real feel of emotion. There is still control, but within it a degree of chaos, as images form and break apart, emotive and ephemeral.The data is so high density that you can't actually see the data. Like a sand castle, made of billions of particles of sand. The data is discrete, we see the clusters of points, reminding us that we are in a machine, an Artificial Intelligence dream state – constantly processing, analysing, and evolving. There is movement within the color, shapes are fluid, with constant motion and transformation.

Applying principles of cinematography and illumination, and using the properties of light to make everything look and feel more physical, in effect renders the dream world more believable and tangible with vibrants textures that can be felt.

Also infusing elements of light in other forms – aberrations, optics and distrotions – making it more ethereal, dreamlike, and magical. This merges the physical with the virtual; a divine transcendence of mind and matter.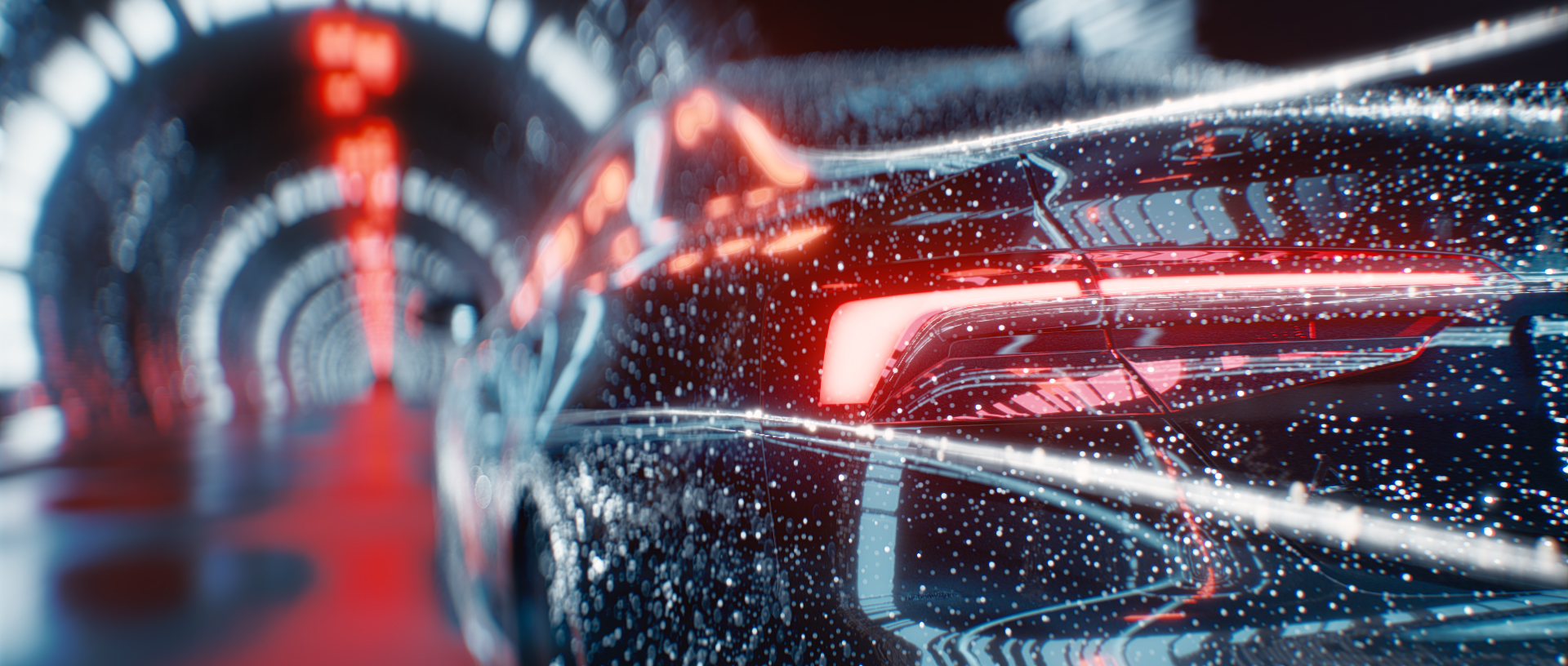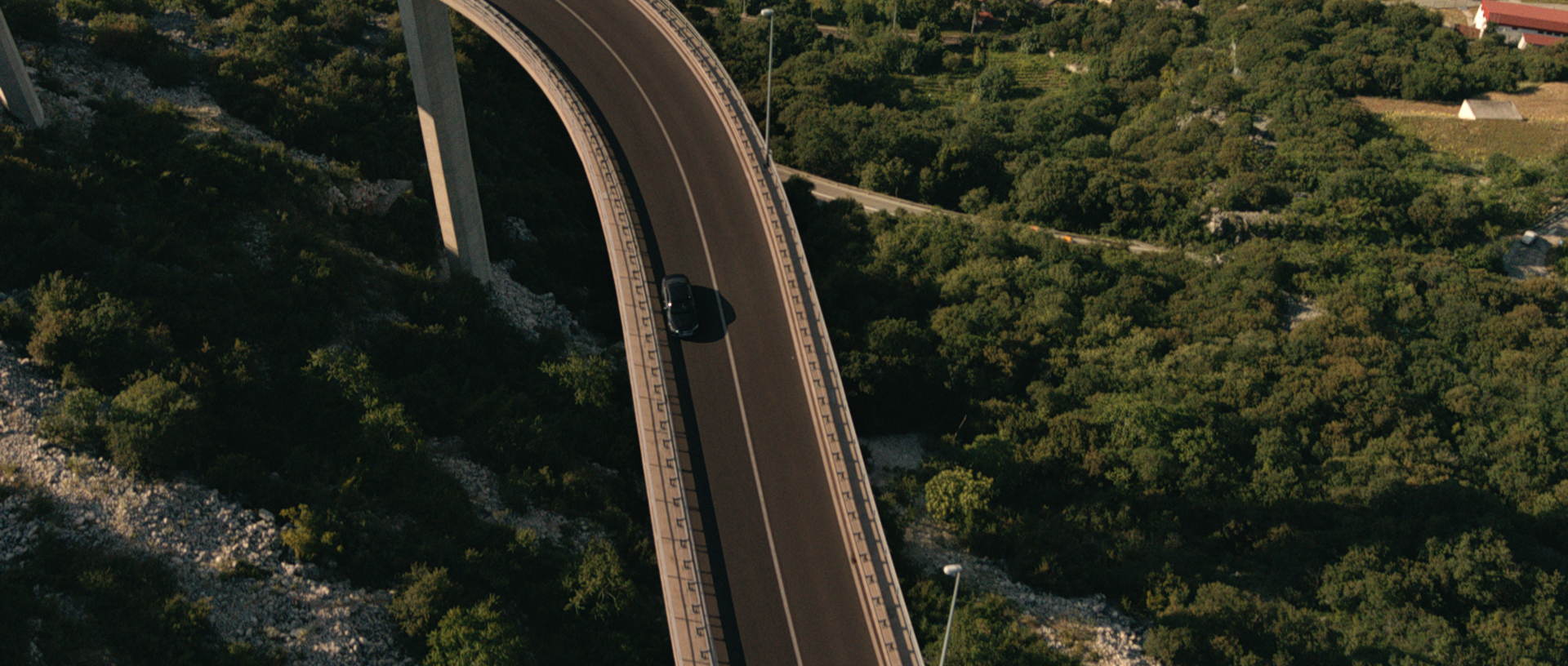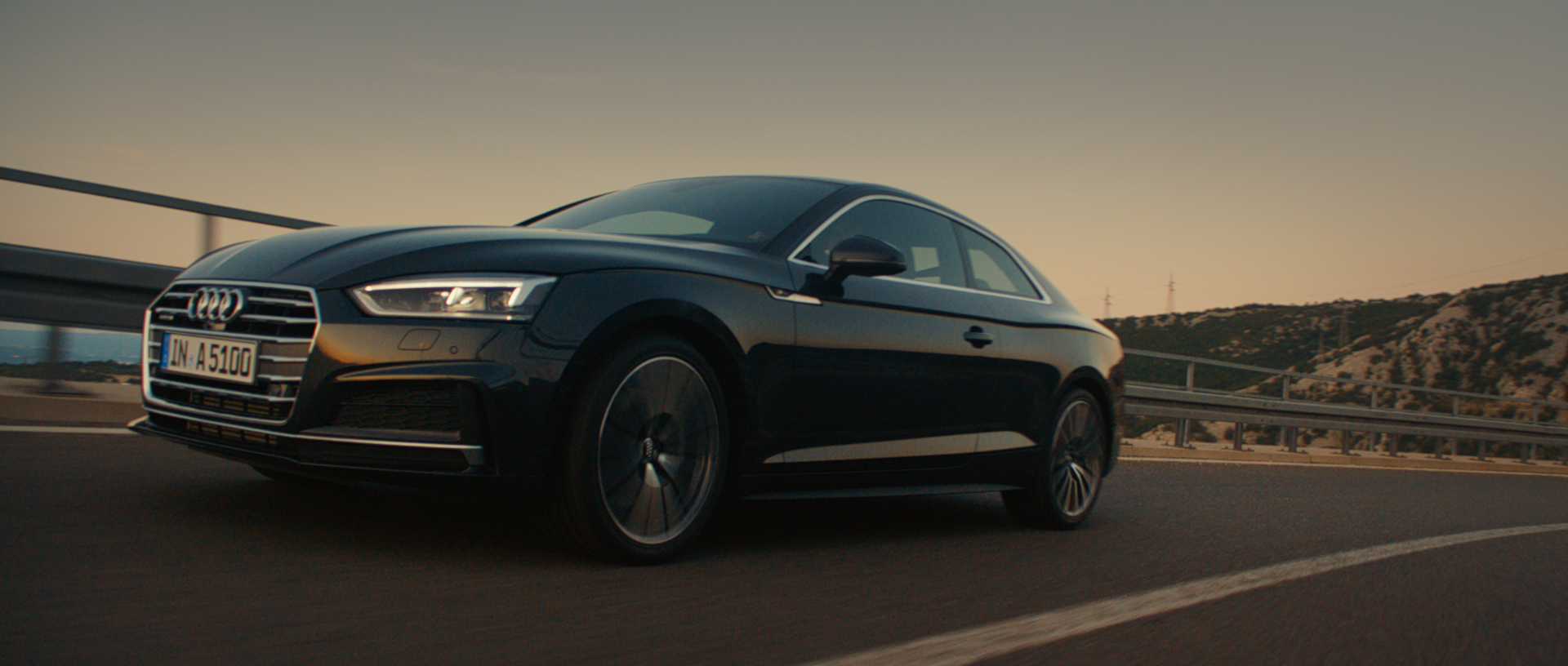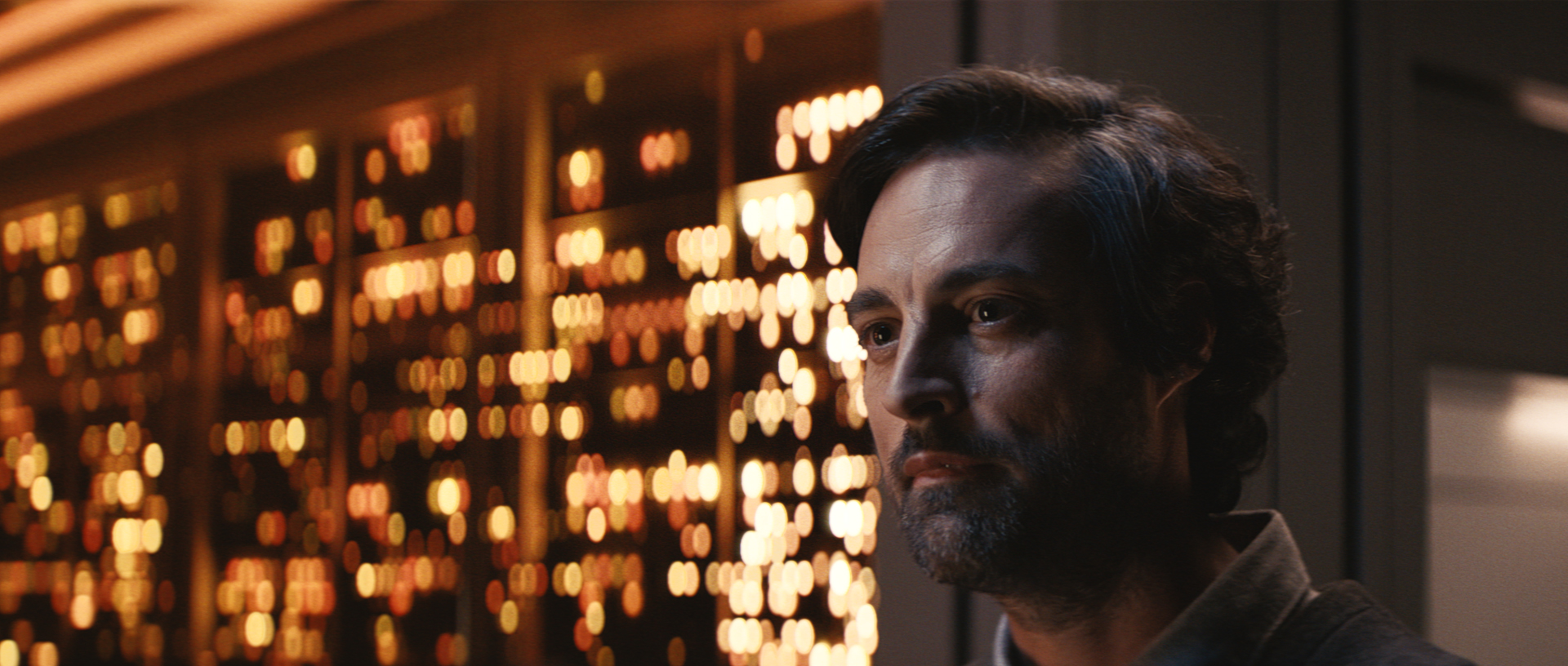 ---
The Design Direction
–– 03


To get the most out of the story and really capture both the emotion and visual magic, the team had to utilize a design direction that took the viewer inside the mind of the most advanced intelligence on Earth. To sell the AI presence not just as an environment, but as a character, the journey through the dream world had to possess real soul and a building sense of humanity, as the organic elements of human life had to take shape within the dream.

Another big challenge was creating a dream world that was acceptable to a wide-spread, mainstream audience, so the aesthetic palette had to be approachable, yet as abstract and moody to please the creative leads. So the team pushed forward with the design ethos of Light as Data - it's vibrance and luminance being an element that would create an illuminated world that didn't feel too scary or dark since there would be so many light elements making up the data-driven landscapes.

Technique-wise, they essentially translated the aesthetic of anamorphic lensing into a vibrant CG world, so the bokeh fields were distorted with the data arrays existing in an extremely shallow Depth of Field, accentuating the dream-like qualities of out of focus light. Another important technique for the team was to believably fabricate this illuminated Lidar World, as the narrative was about an Artificial Intelligence creating their own dream world, so everything had to be densely data-driven.

This resulted in ultra-dense point-clouds generating all the objects in the scenes, allowing them to transition seamlessly from each thought, and then rendering the illuminated properties with aggressive lensing filled with anamorphic techniques like Dolly Zooms, Spherical Wrap Distortions and Rack Focusing with wide-open apertures to create the Illuminated Data Scapes.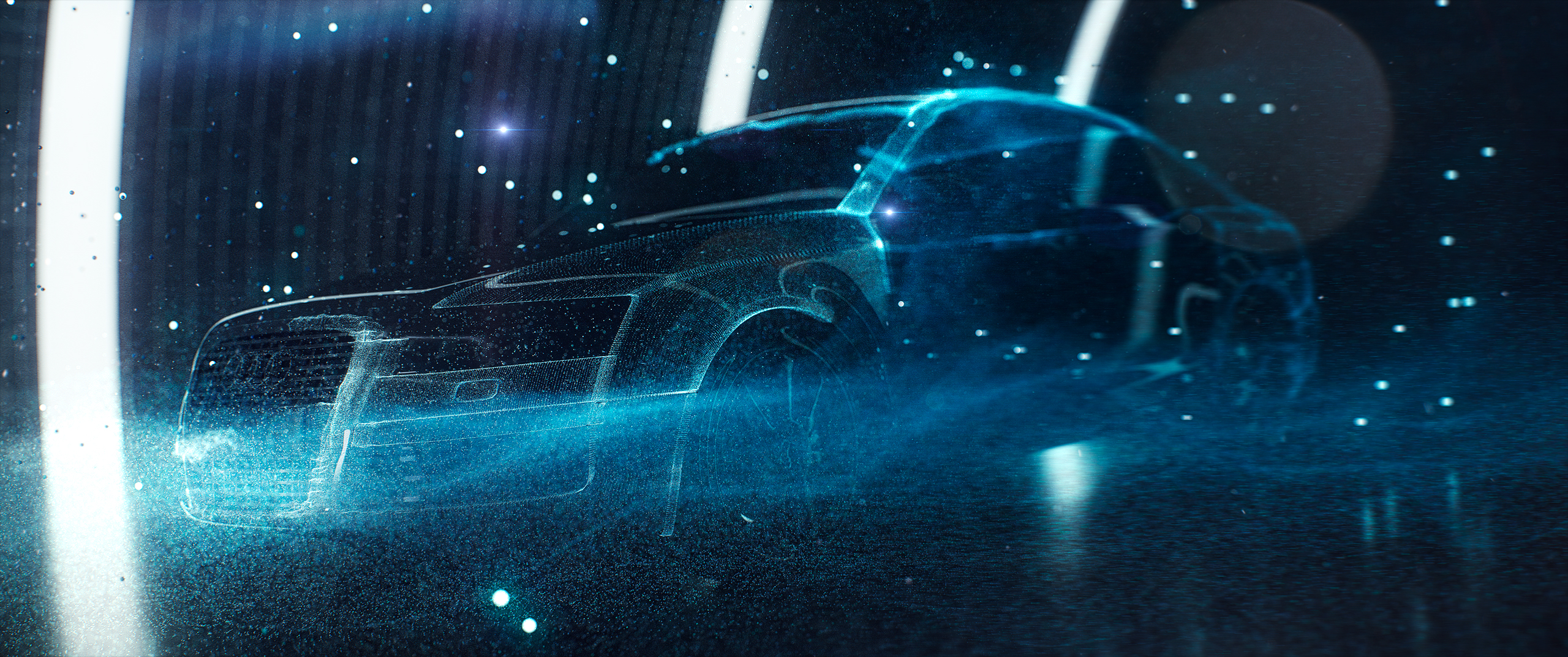 ---
The Mill Collaboration
–– 04

With this project came a series of brand new challenges that saw Mill talent from across 2D and 3D visual effects working closely together to bring the spot to life.

Talking further about the complexity of the project, and on collaborating with Director GMUNK, Mill 2D Lead Artist and Shoot Supervisor

James MacLachlan

shares, "I've always loved doing projects with GMUNK; his approach to an ever-evolving aesthetic is one I really respond to. He came to us with a number of really great references and ideals of which we could build on. It's always a very collaborative process with GMUNK and this project was no exception.

The biggest challenge when approaching a project of this scale is sustaining the pace and enthusiasm GMUNK brings to an ever-evolving design. He's relentless. One minute you will be talking about the level of luminance in a fiber optic wolf fur, and the next you will be discussing why a digital seed explosion requires deep compositing, and what that can offer the final piece.

GMUNK often brings a very organic approach to the digital visuals he wants as a final product. Onset we shot camera filters, prisms, LEDs, screens and torches, to add to the layering of the compositing. Then, once back in the studio, we also constructed and shot giant kaleidoscopes and prisms. These elements were then digitized and reconstituted as camera effects and UV displacement maps in Nuke, adding to the final visual effect.

There were a number of firsts in this project that really added to the final piece. At a technology level the list would be very long, but we spent many hours hard at work to ensure we were hitting everything required."

Further discussing the technical complexity of the project, The Mill 2D Artist

Stefan Susemihl

tells us how the team overcame the hardest challenges and achieved the spots seamless feel, "Throughout the process, we kept on trying to push the look through different techniques, even sometimes techniques that were completely new or never tried before.

Most challenges related to the fact of it being an edit with almost no cuts and heavy on design. There was a lot of work done not just on generating the FX, but also to make it as seamless as possible in between transitions from languages/looks in FX."

The Mill VFX Supervisor and 3D Lead Artist

Alex Hammond

goes on to explain further, "Early meetings with GMUNK and BBH were crucial to understanding the complex idea. We needed to create a world where a computer was dreaming of forms augmented by data.

The biggest challenge was to understand what this world would look like. This job also required heavy amounts of simulation which can be time-consuming to generate so we wanted to make sure we locked down all the components of the commercial. To do this we spent a good amount of time developing concepts and a detailed Previs which helped us understand the visual language of the film and allowed us to decide where to focus our attention.

The Audi job required us to use all the tools we had- and ones we didn't yet! Multiple techniques and software were used to meet the demands of the job as we had to generate a 'physical' version of our world and then augment it with data to mimic the effect of lidar scanning. In this commercial, the data was in the form of millions of points of light scattered over various architectures and landscapes. In effect everything was unique in this ad - right down to the 'data' of the wolf's hair.

We created some tools to add high-detail to low-res geometry based on textures - this came in particularly handy for the sections inside the computer and architecture scenes where we needed to pick out lots of nice 'specular bokehs'."

For more information about the Mill's involvement in the project - do check out their project page on the Mill website:

http://www.themill.com/portfolio/3399/pure-imagination
Audi Pure Imagination Credit List
---

Agency: BBH London

Producer: Michelle Kendrick
Creative Director: Ian Heartfield
Creatives: Adrian Merz, Mark Bushnell
Account Director: Jamie Bolton
Additional: Angus Lees, Billy Dupee

Production Company

Production Company: Nexus Studios
Director: GMUNK
Director of Photography: Sam Goldie
Executive Producer: Jeremy Smith
Producer: Jo Bierton

Colour

Colour: The Mill
Colourist: James Bamford

Editorial

Editing Company: Nexus
Editor: David Slade
Composer: Ben Lukas Boysen
Sound Design & Sound Mix: Kuedo

VFX & Design

VFX Company: The Mill
Executive Producer: Carl Phillips
Production Coordinator: George Reid
Shoot Supervisors: James MacLachlan, Alex Hammond
VFX Supervisor: Alex Hammond
2D Lead Artist: James MacLachlan
3D Lead Artists: Alex Hammond, Sam Driscoll
2D Artists: Stefan Susemihl, Oscar Tornincasa, Richard McKeand, James Pratt, John Thornton, David Wishart
3D Artists: Dan Yargici, Ian Baxter, James Hansell, Joshua Curtis, Nick Smalley, Vaclav Cizkovsky, Yoann Gouraud
Lead Concept Artist: Michael Rigley
Matte Painting: Jiyoung Lee
Lead UI Artist: Toros Kose
Motion Graphics: Rajinder Davsi

Service Production

Service Company: Trixtr
Line producer: Damir Vajdic
Prod. manager: Aleš Kranjec
Location manager: Žarko Ivković
1st AD: Tina Fratnik

Camera / Grip / Sparks

Focus puller A: Joško Morović
Focus puller B: Srdjan Kokanov
2nd Camera ass. A: Marin Marišić
2nd Camera ass. B: Goran Fabrio
DIT: Simon Sedmak
Gaffer: Andrej Gorenc
Best Boy: Jernej Vaupetic
DIT: Simon Sedmak
Key Grip: Blaž Jelnikar
Grip: Niko Zavadlav
Grip: Klemen Fajfar

Art Department

Art director: Nataša Rogelj
Set dresser: Matic Uršic
Construction man: Izidor Fortuna
Art. helping hand: Tomi Samardžija

Drone Crew

RA Op: Igor Teljukov
Drone Pilot: Matjaž Kranjcevic
Drone Tech / Op: Dejan Mugoša
Drone Tech: Andrej Racic

Russian Arm

Precision driver: Miran Kacin
RA Op: Igor Teljukov
RA Precision driver: Antonios Varvasoudis
RA Flight head Op: Pasquale Barisano
RA Truck driver: Costantin Abalasei