Dots Play Beautifully
December 2016 ––


True Passion Projects are a rarity in the hustle and bustle of making a living in the commercial world. Once in awhile, a dream project gets dropped in your lap, like this particular one from the great gaming studio

DOTS.

The brief, delivered with love from the NYC homies

Odriana Monty

and

Daniel Cingari

, was wide-open creatively and sought to craft an artful promo for the game.

Munko's approach was inspired by the elements of Light and Movement and how they are two of the most powerful and versatile stimuli with which filmmakers can engage and inspire. This intersection of light with movement can evoke a huge range of reactions; it can barrage or sooth, numb or engage, inspire a sense of chaos or a sense of order.

ENTER: DOTS

If gaming inherently aspires to foster immersive engagement through activity, then Dots seems to be the most elegant possible embodiment of that goal. Playing beautifully is about movement as meditation, light as art, and simplicity as a springboard for inspiration. Instead of embracing the ethos of more, Dots embraces that of less.

As a result, this film was about finding abundance in minimalism, and the way that the elimination of clutter can become key to unlocking personal creativity. So to physicalize that concept required imagining movement as rhythmic gymnastics and light as the glowing orb with which our hero performed her singular pas de deux.
---
The Concept
–– 02



What excited Munko about this story concept was the opportunity for it to play out on multiple levels. On a purely sensory level, it was a dream-like vision of light, lensing, cinematography, tempo, and the human body. The visual spectacle of this incredible rhythmic gymnast

Laura Zeng

as she engaged with ethereal pin pricks of perfect spherical light all around her would be visually stunning, simulating the meditative beauty of the Dots game. But on a narrative level, it was a character-driven story about a young woman striving to perform at her best.

We invested in her hopes, sympathized with her fears, and willed ourselves against her obstacles. We were emotionally invested, relished in her triumph as she performed flawlessly with a sense of fluid confidence and wondrous beauty. In the end, when we realize she has been imagining herself performing this epic routine while playing Dots in the locker room, we understood the meditative power the game imbued upon her as part of her pre-performance routine and the transformative power of total focus.
---
The Approach
–– 03



Dots were the prominent visual motif in our film. We played beautifully with the language of our camera, envisioned the way our character experiences her performance within a perfectly ordered dreamscape that's both lushly imaginative, yet guided by a clear visual language of circles and light. Whether it's the spherical competition ball, round sequins on our gymnast's costume, hypnotic camera strobes, out-of-focus dots of light representing audience members, or bokeh lens elements captured in and around our gymnast's other-worldly routine, perfect circles were the constant visual touchstone in our storytelling.

There's something almost ritualistic in the repetition of these circular elements in our frame, mirroring the meditative quality of the Dots game. After all, if our character is dreaming — she's dreaming in the world of Dots. The language of light is as important as that of movement here.

The glowing competition ball — which was outfitted with a remote-controlled LED system that could change colors and pulse — was as much the hero of our film as our performer herself. Pin LEDs representing the crowd created a twinkling sense of atmosphere that surrounded and energetically fed our hero.

Camera strobes further fed the narrative with the element of light, adding to the stylized beauty of our world. They also represented the magnitude of the gymnast's competition, alluding to the vast amount of media present. We used backlighting, rim lighting, and long exposures to create gorgeous, brightly beautiful imagery filled with artful framings. Anything that wasn't a glowing orb or a cinematographic trick that simulates one was richly shadowed, creating a thick atmosphere in the space that allowed the light to feel completely controlled, even at its most dynamic and fluid state.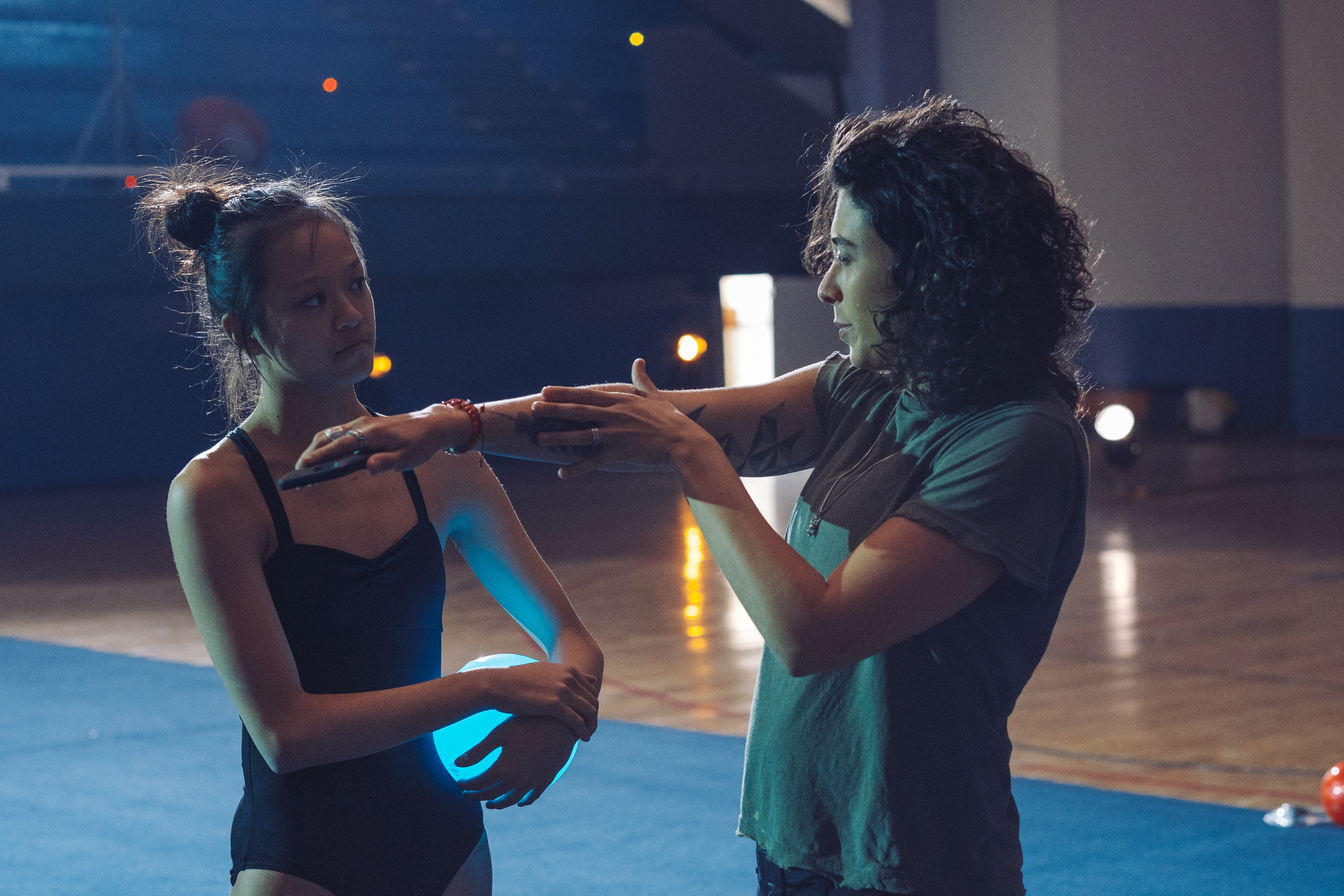 ---
The Adventure
–– 04



The story line of traveling to Mexico City for a week with two of your dearest and most talented friends is rich with enthusiasm, laughter and fond memories. The three amigos had to adapt on the fly to collaborate with an unfamiliar crew, trying their best to pull off a live-action miracle within the restrictions of an unexplored culture. They had Rhythmic Gymnastics legend

Laura Zeng

flown in from Los Angeles, and captured her talents on a rather modest production budget 10 strict hours of shooting, working incredibly hard to maximize the opportunity.

Live-Action Direction and Production is full of these scenarios where you and your people collaborate in rather unique conditions and schemes to milk the best and most artistic results out of whatever you're dealt with. Without that spirit of collaboration and problem-solving in a pinch, and the homies to support each other, shoots like these would never be successful. Extra special thanks to the

Dots Team

,

Tonic Films

,

Tool of North America

and everyone else whom was involved in a rather unforgettable ride.
DOTS Credit List
---

Director: GMUNK
Live-Action Executive Producer: Oliver Fuselier
Executive Producer: Brad Johns
Head of Production: Ian Falvey
Executive Producer Tonic: Susan Neil
Production Controller: Rodrigo Rodriguez
EP Assistant: Ara Aviña
Line Producer / UPM: Victor Albarran
Production Coordinator: Pablo Icaza
Key Production Assistant: Juan Antonio Muñoz
1st AD: Frederic Henocque2nd AD: Patrick Heyerdahl

Script PA: Sara Ramos

Director of Photography: Dr Joseph Picard
VT Pro Creative Director: Michael Fullman

1st AC: "A" Camera: Juan Pablo Ortigosa

2nd AC: Per EFDSteadicam: Gerardo Manjarrez

Camera Lens Technician: Per EFD

DIT: David Bahena

Gaffer: Joaquin Medina

Staff 1: Francisco Quiroz

Staff 2: Cristo Angel Dominguez

Staff 3: David Zuñiga

Staff 4: Omar Cruz

Staff 5: Manuel Melo

Staff 6: Sergio Cuauhtémoc Quiroz
Location Manager: Omar Zuñiga

Location Assistant: Marco Becerril

Cleaning Services: Elena Sánchez

VTR: David Bahena

VTR Assistant: Per David Bahena

Art Director: Rafael Mandujano

Set Dresser: Luisa Guala

Art Department Coordinator: Yosafat Delgado
Swing 1: Edgar Israel Chavez

Swing 2: Gabriel Aaron Rodriguez

Swing 3: Alejandro Muñiz

Wardrobe Stylist: Patricia Delgado

Makeup & Hair: Lucy Betancourt
Extras Casting: Elke Garda
Post Production: The Mill London
Executive Producer: Steven Venning
Producer: Rebecca Perry
Editor: Hugo Vaughan-Hughes
Colorist: Oisin O'Driscoll
Flame Magic: James MacLachlan
Music Composer: SoundsRed