Energy Upgrade California
April 2017 ––

The fine peoples at

DDB San Francisco

came to Munkowitz with a very fun brief - the creation of an authentic film by and for

Californians

, detailing the everyday steps we can take to preserve their cherished environment - all via a call-to-action to a service called

Energy Upgrade California.

The world knows California for its progressive agenda and focus on conservation. But only we know why we care so much about these things: because our state inspires, moves, and nourishes us. There has never been a more important time to celebrate this distinctly Californian mindset; that our daily choices matter, our planet matters, and the values we hold dear are only as relevant as the actions we take.

With this film, we're painting an evocative, deeply felt picture of how they each think about their urban footprint. But even more than that, how they feel about their urban footprint. We're looking into their mind's eye to discover their complex emotional worlds; what excites them, scares them, motivates them, and inspires them. We all know that the troubled natural beauty of California is only a symptom of a much larger global illness.

The natural resources on our planet matter, and our actions can save or destroy them. By choosing images that cut to the heart of that reality in a single glance, we can powerfully evoke that concern through the eyes of our characters, doing what all great storytelling aspires to: conveying a universal message through an authentic and deeply personal lens.
---
The Approach
–– Authentic


Taken together,

this piece is a confluence of the people we see and the images that matter to them. Seen in evocative double exposure, the landscapes we portray will speak to the complex dimensionality of our characters, and our eco-system as a whole. Everyone has their own reason for conserving, whether it's a love of snow capped mountains, a fear of smog, or a desire to protect their family's future. That's what's so impactful about this message. We all have different reasons motivating our actions, but the net result of our actions is the same: a healthier world and a brighter future.

Light is how we start the day, how we represent joy, love, and new beginnings; it's an essential part of life, and the human experience. As such, light is an important cast member in our film. Expressing our landscapes through light immediately transforms them into something dynamic, interpretive, and alive.

This is particularly true when you combine light with people. If you show a picture of a valley, the viewer passively studies it. If you overlay that valley atop the person who holds it close to their heart, it wraps around them, changing their appearance — now, it's not just a picture, but an active part of a two-way relationship.

In this way, we can use light to create a surreal palette that expresses the impact of California's stunning natural world in starkly personal terms. Our characters don't just care about the environment. The environment is enmeshed into their very being, as intimately a part of their identity as anything else. By painting and sculpting the space around our characters with the light of these images, we imbue them with profound meaning and emotion.

For more info about

Energy Upgrade California

, head to

EnergyUpgradeCA.org

and do your thing.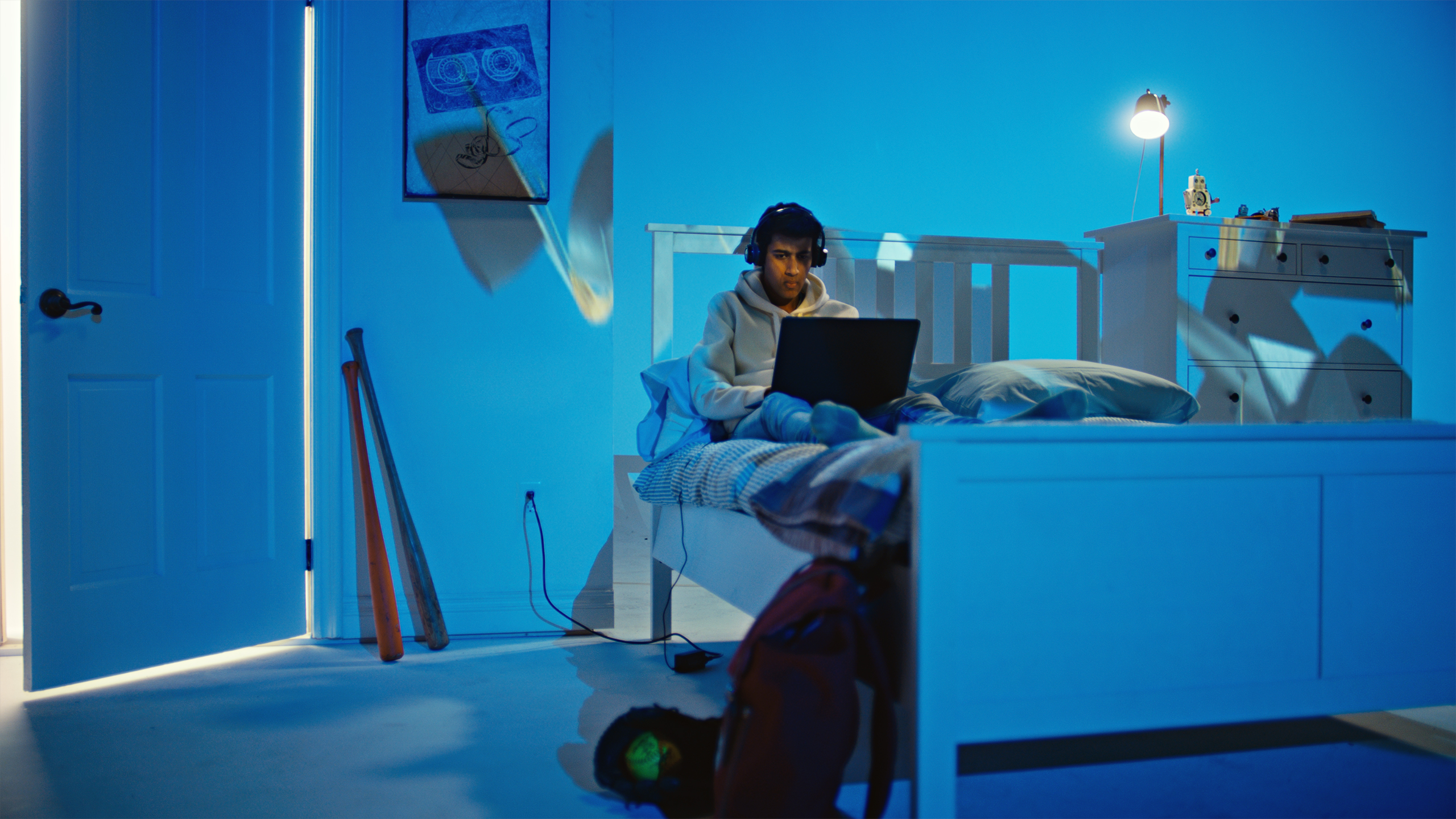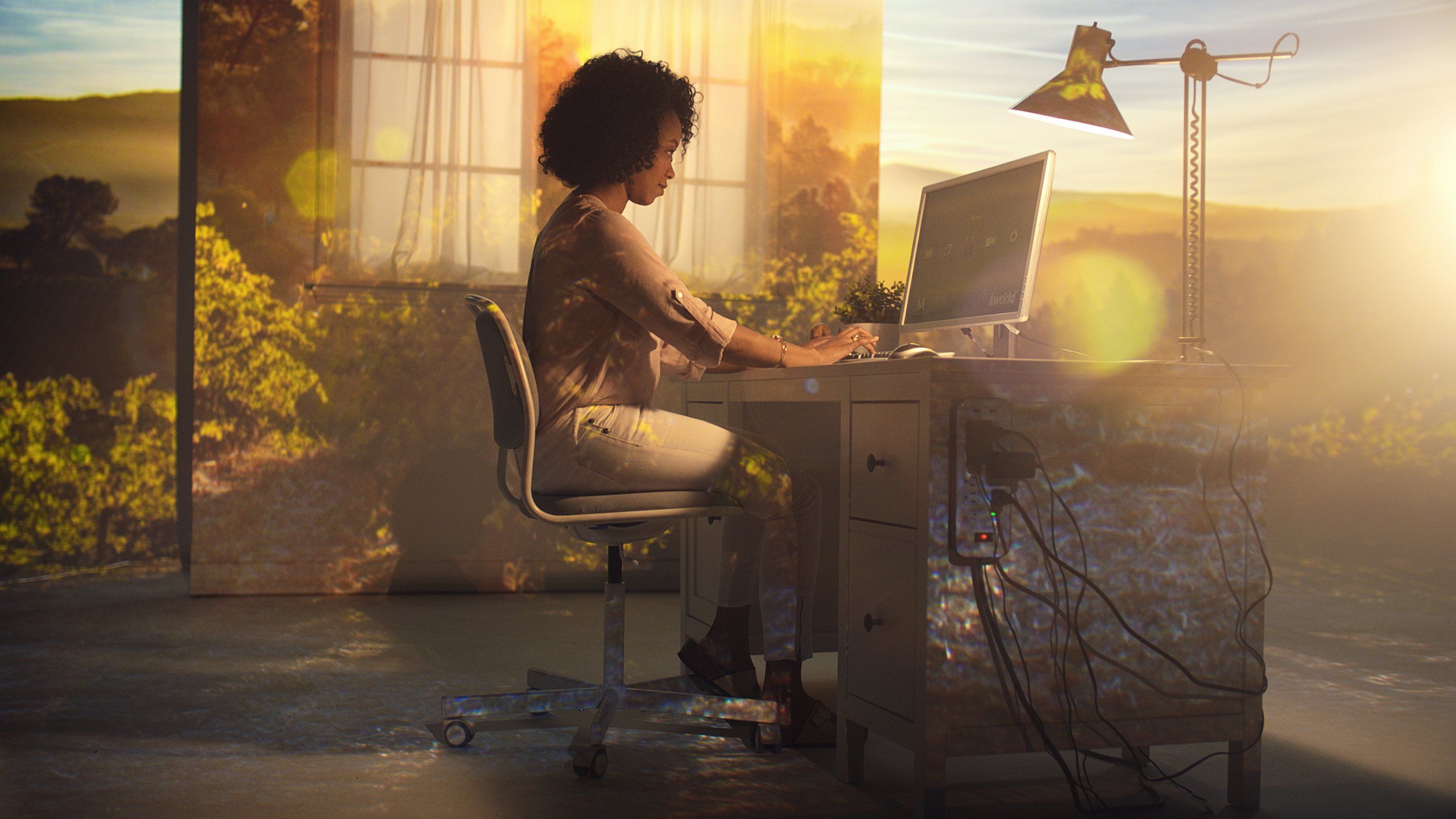 EUC Credit List
---
Production
Director:
GMUNK
Managing Partner:
Oliver Fuselier
Executive Producer:
Sarah Dileo
Head Of Production:
Amy Delossa
Producer:
Mary Church
Production Supervisor:
Jess Royall
Asst. Prod Supervisor:
Jessica Tomson
Asst. Production Supervisor:
Kailey Aleto
1st AD:
Freddy Childress
2nd AD:
Ronnie Misetich
Camera Dept
DP:
Justin Henning
1st AC:
Nick Cutaway
DIT:
Daniel Satinoff
Electric
Gaffer:
Mickey Petersen
Best Boy Electric:
Mark Mann
Electric:
Mike Cruz
Dimmer Board Op:
Eric Androvich
Grip
Key Grip:
John Hatchitt
Best Boy Grip:
Jason Elhers
Grip:
Cory Beaird
Art Dept
Production Designer:
Charles Infante
Art Director:
David King
Set Decorator:
Simona Ennas
Prop Master:
Adam Jette
Coordinator:
Chris Rubin
Leadman:
Craig Pizzella
Set Dresser:
Mark Pizzella
Set Dresser:
Cecelio Perez
Art Driver:
Todd Anderson
Stylist:
Paula Tabalipa
Sound, VTR, Script
VTR:
Dylan Defelicis
Script Supervisor:
Michele Tedlis Sorbo
Post Production
Editor:
Bradley G Munkowitz
Colour:
FreeFolk
Colourist:
Duncan Russell
Music:
Keith Ruggiero
Agency
Creative Director:
Sam Brown
Associate Creative Director:
Dallas Baker
Associate Creative Director:
Michelle Sjoberg
Art Director:
Tufan Guzeloglu
Executive Integrated Producer:
Andrea Bustabade
Business Lead:
Matt Perry
Account Director:
Lindsey Lucero
Account Supervisor:
Ross Mcleod
Account Manager:
Amanda Fuller
Business Lead Multicultural:
Karla Kruger
Creative Director:
Serge Castagna
Senior Producer:
Mimi Cossio
Senior Account Executive:
Patricia Burelli
Talent
Couch Female:
Sarah Chang
Couch Male:
Hardhi Harris
Grandma: Irene
Yah-Ling Sun
Grandson:
Mason Ha
Farmer:
Anthony Delongis
Laundry Male:
Mark Cirillo
Laundry Male:
Edward Kiniry-Ostro
Mother:
Rosemary Dominguez
Shower:
Dalon Holland
Office:
D'kia Anderson
Teen:
Neil Aggerwhil
Son:
Nicholas Johnny
Daughter:
Alexia Alvarez
Father:
Louis Anthony
Hipster:
Tyler Cook