Halo Wars 2

January 2016 ––



World renowned VFX studio

Blur

reached out to Munkowitz to collaborate with their Creative Director Norn Jordan in producing a massive library of graphic assets for the

Halo Wars 2

installment, which were to be implemented into the full CG game cinematics and narrative story line.

Munko immediately tapped his dream team of

Toros Kose

,

Michael Rigley

and

Christopher Bjerre

and together they produced a massive library of Holographic Elements, Fictional User Interfaces (FUI), and Environmental Concepts that were ultimately executed by the wizards at Blur, and game studios

Creative Assembly

and

343 Industries

.
---
Holo Table

–– Central Element

The first and one of the most important visual elements that needed to be designed was the main layout of the Holotable used by the human characters in the cutscenes. Since it had to include a fair amount of information and windows it made most sense to create a flat, top down design that could later be animated and composited into their shots.

It was a fun style to explore as the maximalist, hyper-detailed grids could once again be explored – and Master Kose was the perfect designer to bring it to life. A constant review note was 'more detail' and 'push more grids and small elements into the design' – until everything was chock full of greeble-tastic details. Several of the windows needed volumetric, 3D version of the holograms – and the ethos of hyper-detailed worlds was also paramount.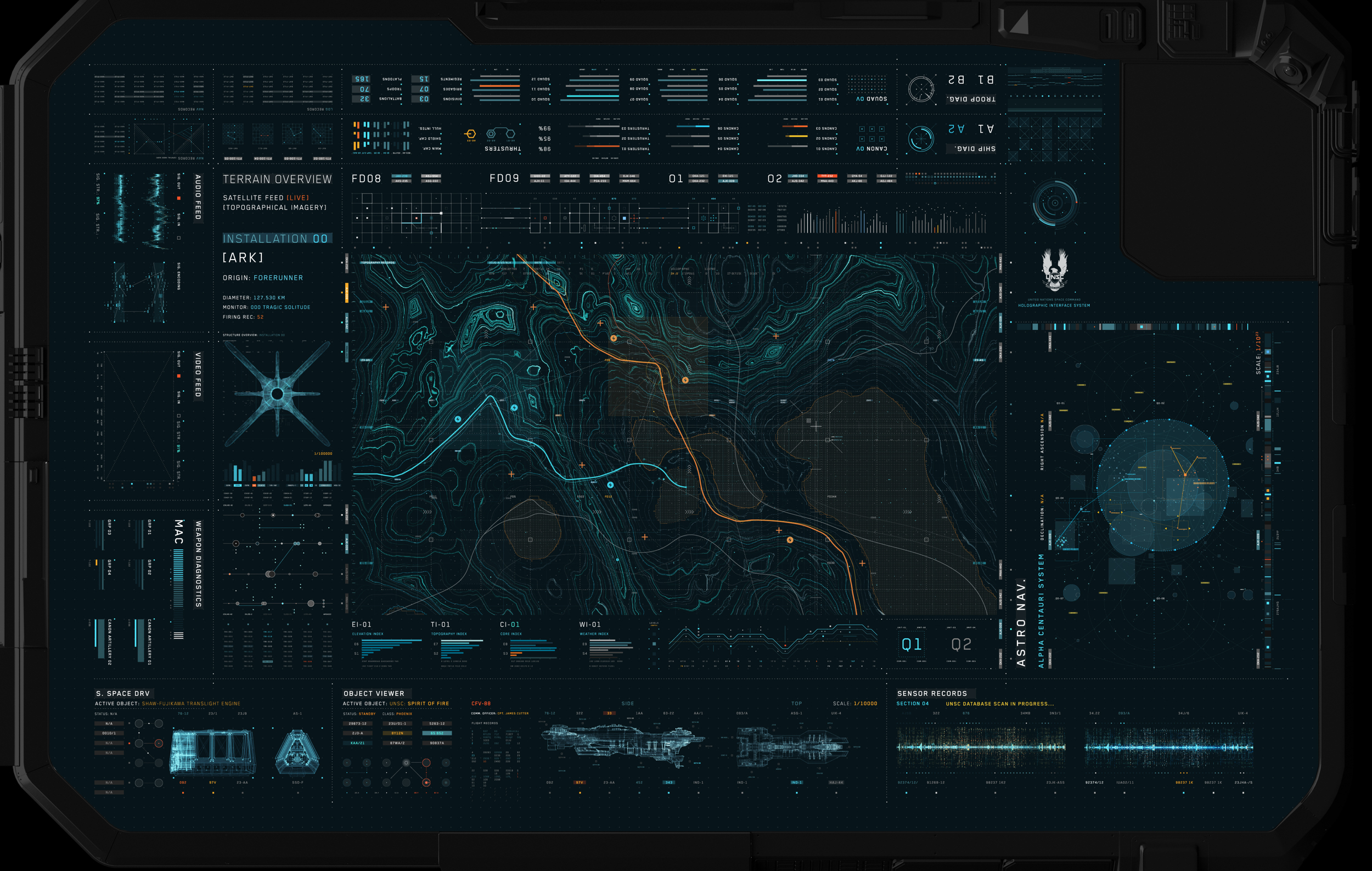 ---
Astro Navigation

–– 02

The AstroNav was an opportunity to push Grids into a 3d Spectrum – using both planar and spherical point clouds to construct the fabric of a Astro Navigation hologram. This was one of the favorites, mainly because the team was able to push some fun forms and details into it. It was also a frequently used hologram as it carried vital story points – so the team gave it lots of love.

---
Audio Signal

–– 03

What would FUI and HUD graphics be without a stylized audio signal transmission – seems like every UI job has a sexy waveform in some shape and form, and this one was no different. Honestly, after so many years of making these types of waveforms, this one is the favorite so far – seems with every gig the team tries to push more detail and orbiting graphics into these things, and it seems to always make the Munkowitz happy.

---
Various Holograms

–– 04

The team was also tasked with a variety of other Holograms that carried significant weight throughout the story arc. The first was a Holographic representation of a warp jump/FTL travel taking place. The second was the holographic representation of the ever-so-iconic Ark, the ancient alien vessel to create the Halo rings. Lastly, they executed a variety of of holographic transmission volumes, taking inspiration from the venerable Tron Disc Download and translating it into more of a delicate, graphic-driven asset.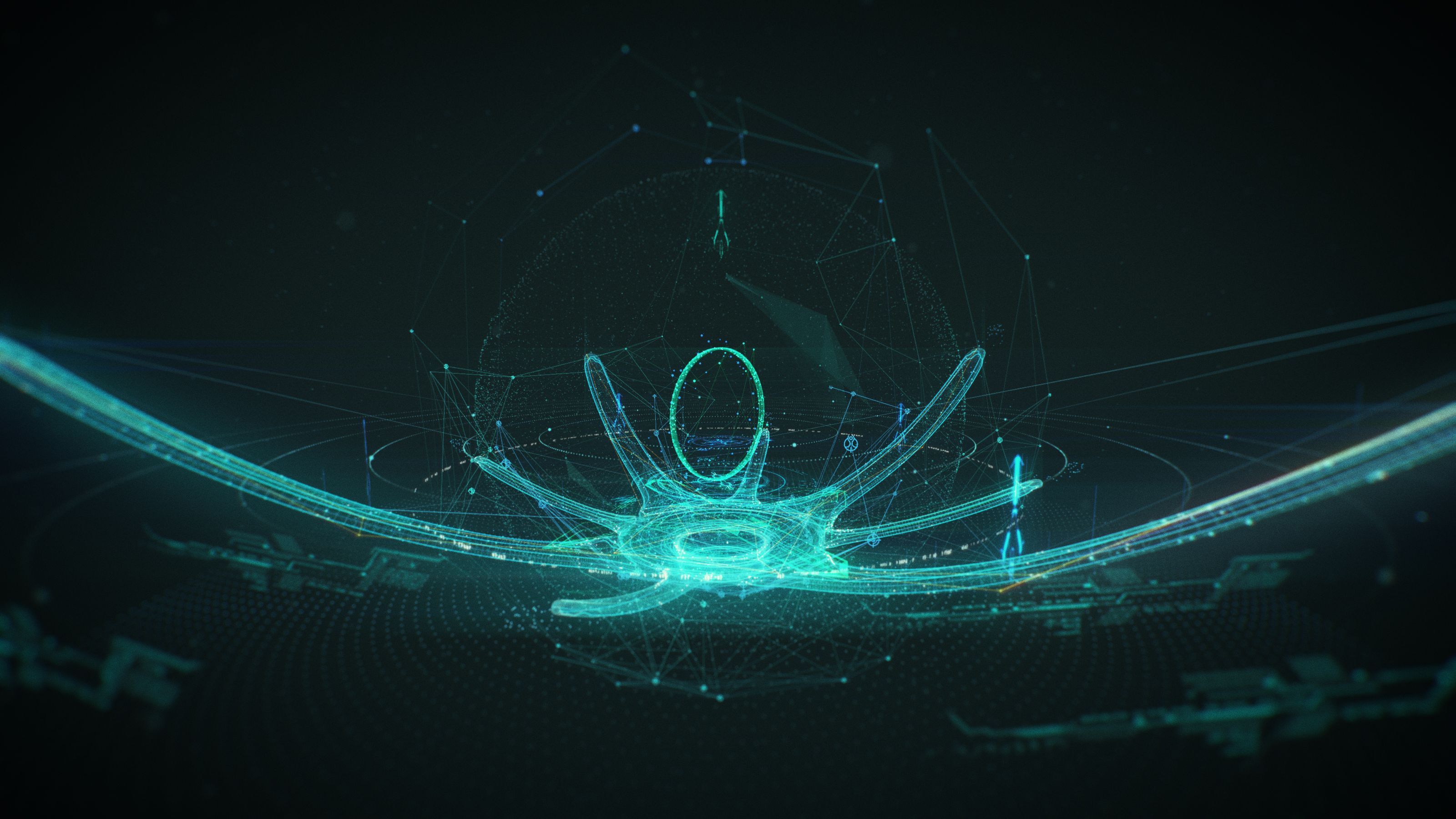 ---
Banished Matrix

–– 06

One figurehead of the storyline was the Banished Matrix, which was a visual representation of being inside the enemy computer, whereas at one point in the game the protagonist AI has to infiltrate the enemy system, finding herself surrounded by an alien computer language.

While a very fun design challenge – we're not gonna lie, the team struggled with this one. We think it was a combination of the restricted color palette and the limited types of alien letterforms they were mandated to show. Nonetheless, they did their best to produce something rich with detail that satisfied the story arc, although nobody really liked the end result.

Blur Motion Graphics Credits
---

Motion Graphics Creative Directors: Norn Kittiaksorn Jordan, Bradley G Munkowitz Motion Graphics Animation Supervisor: Phil Hoeschen
Motion Graphics Designers: Toros Kose, Michael Rigley, Chris Bjerre Motion Graphics Animators: Navarro Parker, Ryan Somerville, Evan Stalker, Josiah Taylor

Director: Dave Wilson
CG Supervisor: Peter Wildman
Producer: Tiffany Webber
Executive Producer: Al Shier