Tecnicontrol®
February 2017 ––


With the robotic projection-mapping project BOX, which was completed in late 2013, Munkowitz played a vital role in imagining how robotics and screen content could be married together in a choreographed piece of art. Countless techniques were learned, and it's common that when a project finishes a whole grip of new ideas present themselves.

One of those concepts was the exploration of robots wielding large LED Screens instead of projection-mapped canvases. This choreography would be shot with a motion controlled camera to enhance the perspective illusions. Add to that a concept of a 'Dream Zone' – essentially an infinite runway of screens and lighting instruments representing the panacea of what lies beyond. Finally setting the entire exercise in a richly crafted living room set and telling the story of a Television abduction, and you have a concept film that satisfies all these curiosities.

---
The Approach
–– Television Abduction



The goal was to immerse viewers in an infectious, surreal energy of signal transmission, reminding them of the childlike wonder that TV can still evoke through a vibrantly rendered world that manipulates space, light, and sound. Stylistically, they employed numerous light sources to evoke distinct moods that arc alongside the narrative. The first half of the film takes place in an architecturally refined living room, dripping with mood and class. LEDs glow gently from the creases of the room, the edges of the shelves, and the seams of the walls, elevating the atmosphere of the space while still being grounded with a sense of realism.

The TV in front of our character are unusually large, and when it starts to rise off the ground, there's a tension that ensues, questioning the scale and movement. From there, the opportunity to create the illusion of depth where it doesn't exist within amazing patterns, vibrant colors, and unexpected animations was paramount. They wanted viewers to feel like they're witnessing something new with design and automation here, using the language of our patterns (with Moco and LED screens) to create 3D effects, depth, and parallax.

Finally, plunging into the Dream Zone, where a seemingly endless sequence of televisions hover in space, into a TV wonderland; like a portal taking us into a whole new world of television. Laser and Sharpie light volumes compliment the arrangement and pass through the environment with an aggressive nature. In this moment, the music becomes colder, more tightly industrial, like we're witnessing a rebirth of transmission dualities. The camera pulls out of the Dream Zone and witnesses the Television finally enchanting and consuming our character in a poignant finale – Tecnicontrol® had its way as she plunges into the Televisions, lost forever.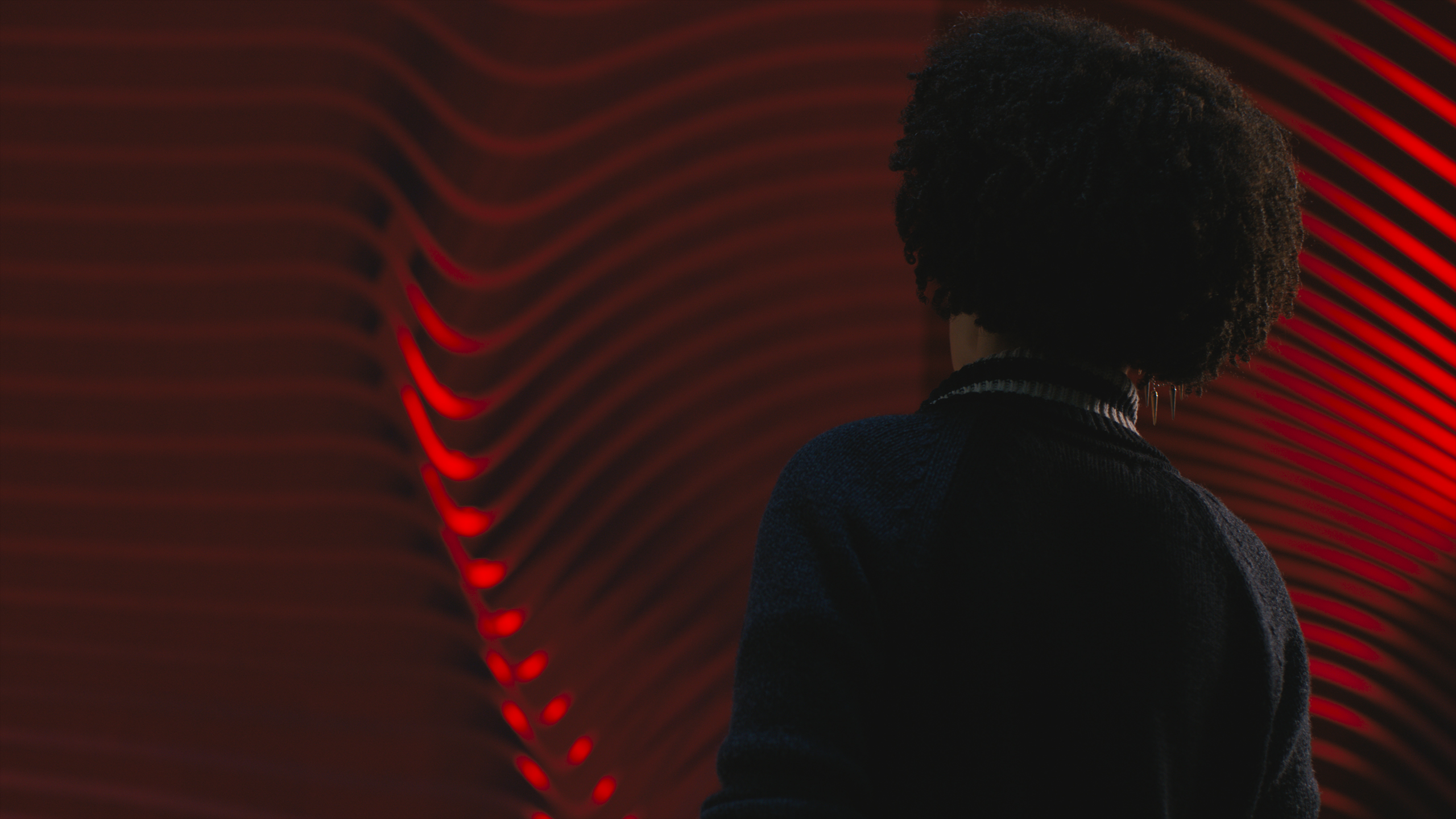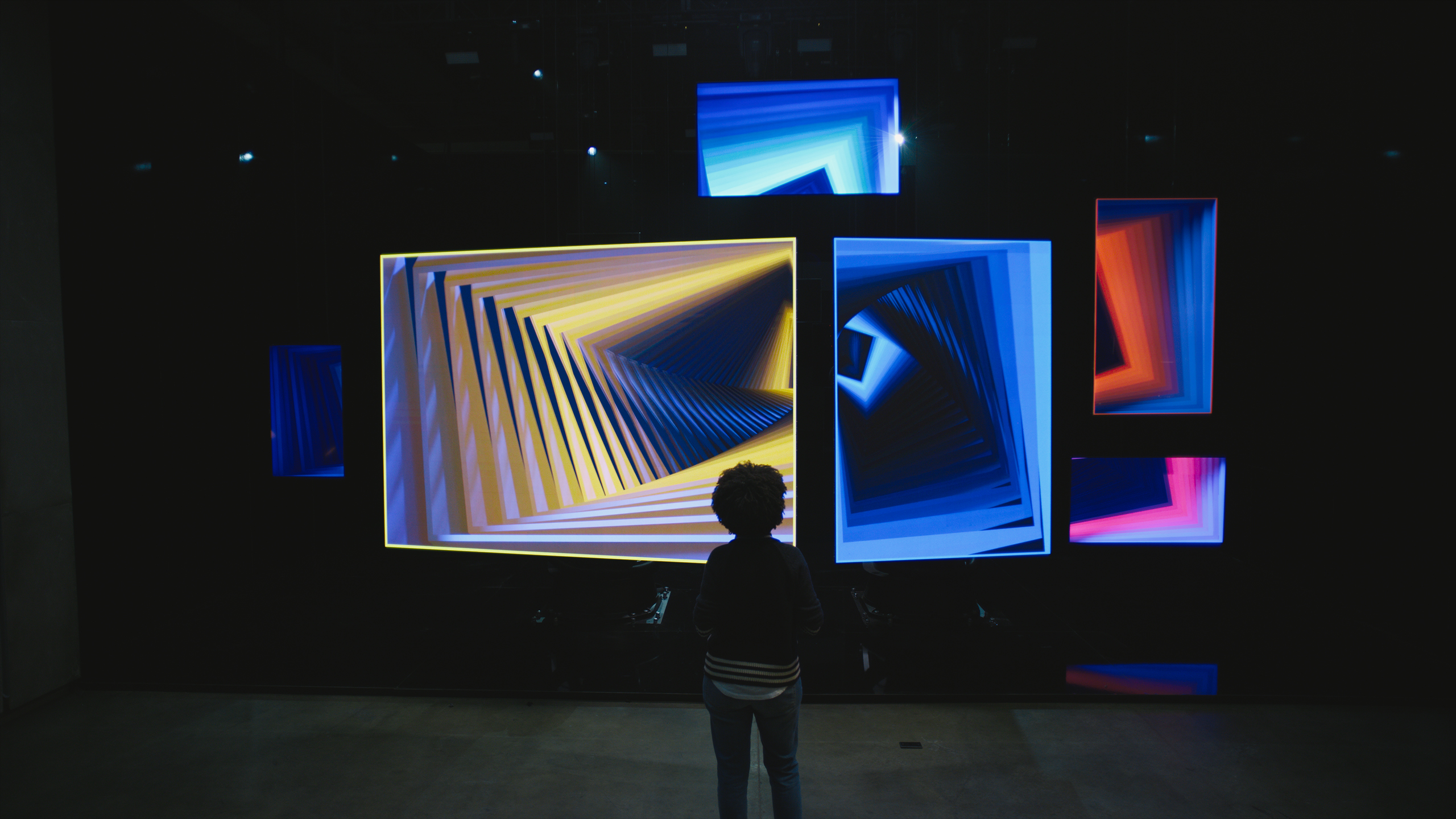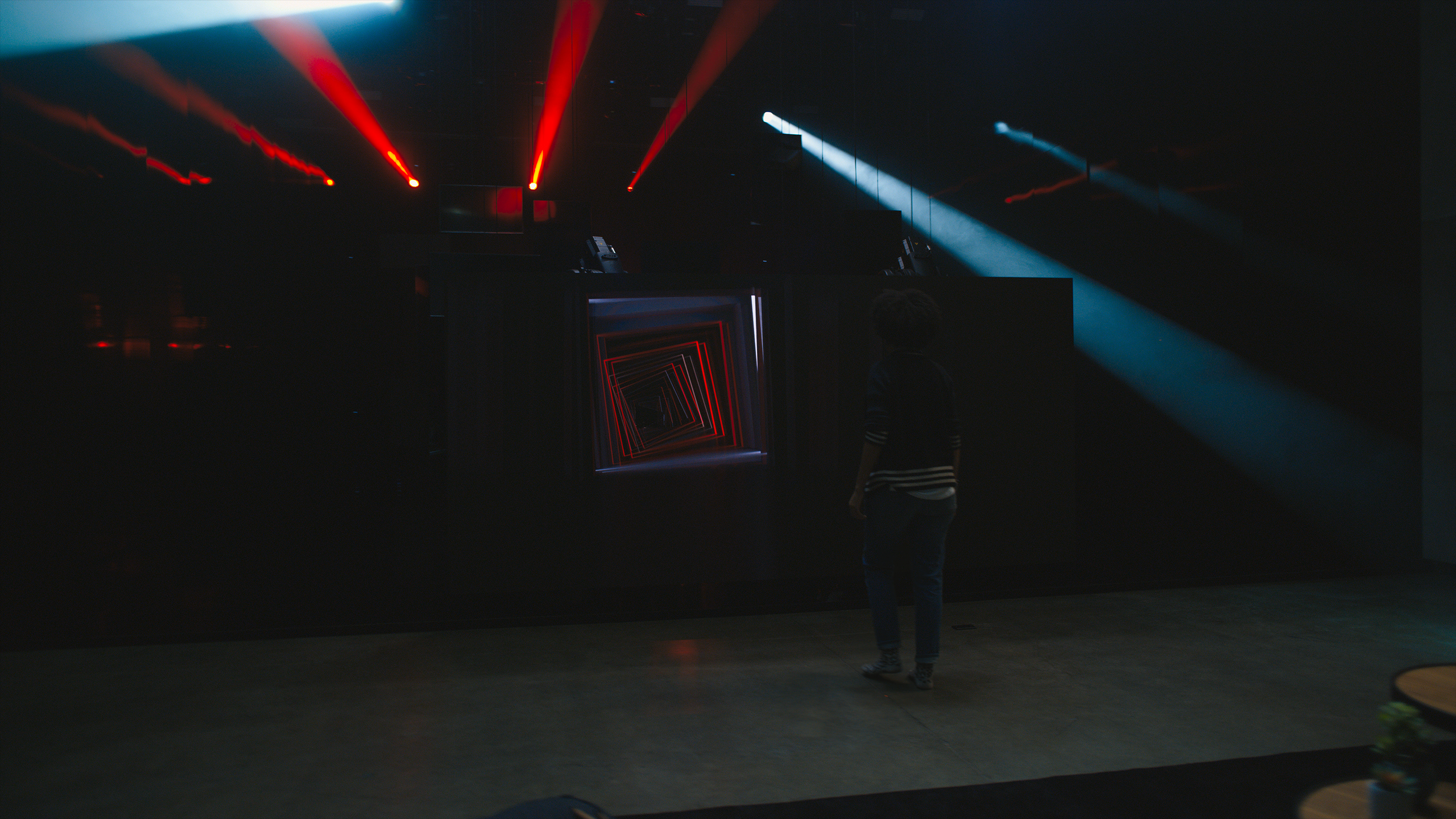 ---
The Details
–– 03



Two 16x9, ultra high-res LED panels were positioned directly across from our actor on the couch, held by large industrial robots (which are hidden for much of the film, until we decide to pull back the curtain and reveal them). These are our hero TV elements, on which most of our key immersive content will be seen. Using motion-controlled camera automations, we'll be empowered to execute incredible perspective tricks with the dynamic content on the screens themselves.

Behind our hero screens are about 30 smaller screens, fixed on tracks in both portrait and landscape mode. We fly our camera through these screens at peak dramatic moments, launching the viewer into a TV wonderland; the camera mounted on a motion-controlled rig. Narratively, this is the climax of our story.

Our hero TVs split open (our robots separating the two giant screens apart) and our camera travels through it, triggering an abstracted, cinematic interlude. By physically flying the camera through actual screens on tracks, augmented by lasers and sharpies that add volume to the space, they sought to achieve a visceral energy that is far more dynamic than anything we could achieve with projection mapping.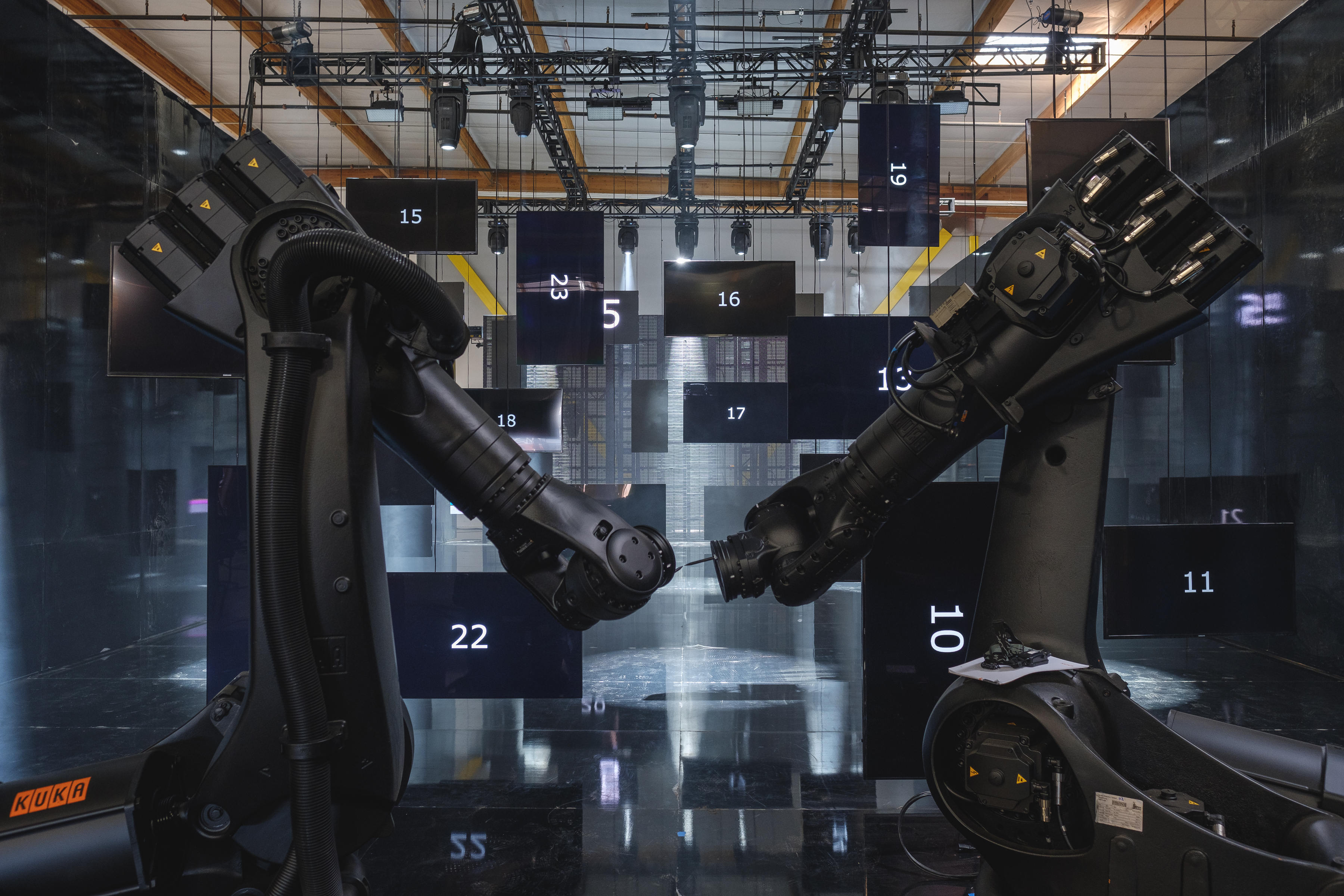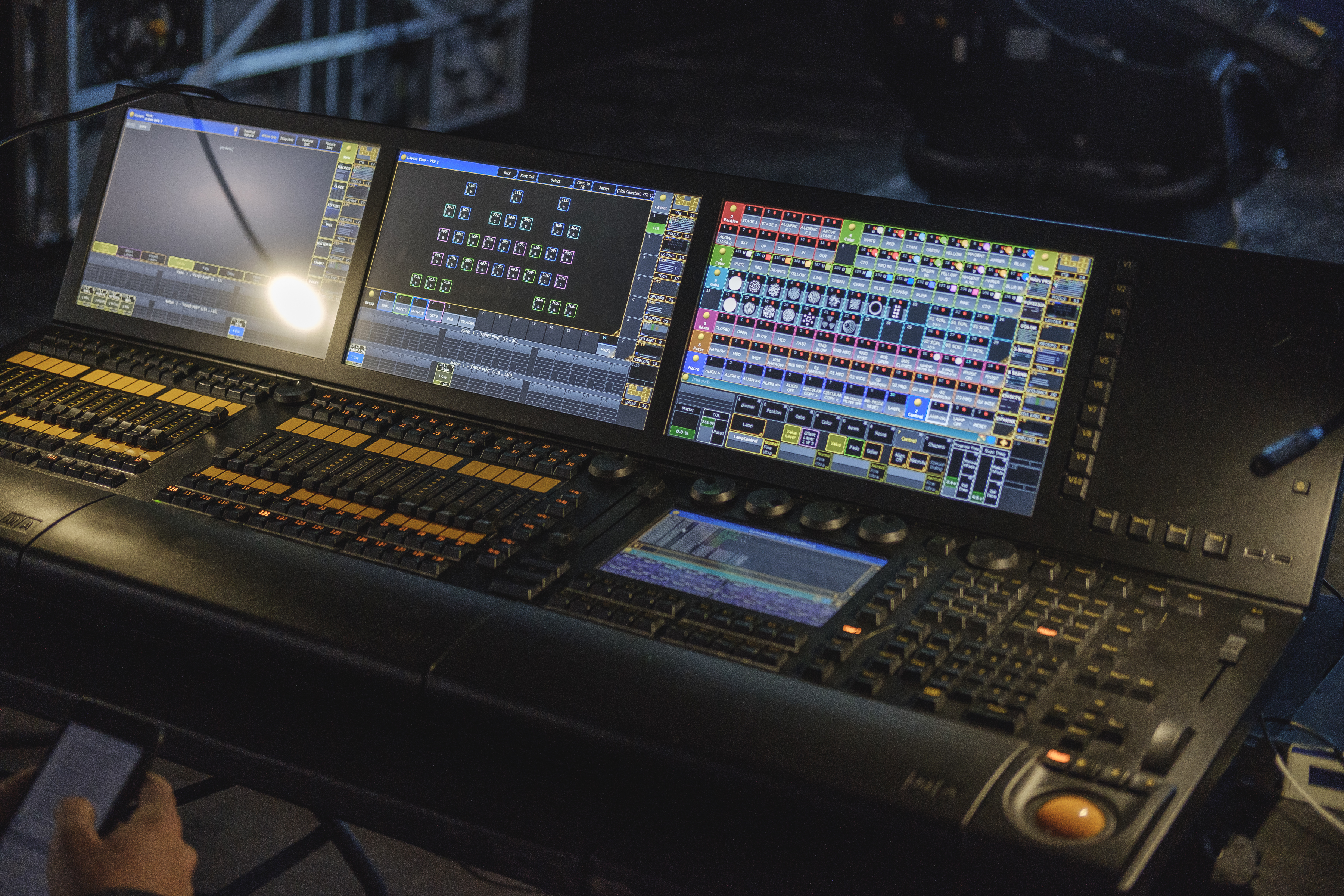 ---
The SuperTeam®
–– 04



This concept film couldn't have been made without the Wizards at

VT Pro Design

. There's been a longstanding collaboration with the team on a multitude of projects, large and small, commercial and artistic. For this project, they had become mesmerized by the allure of robotics as a creative tool and wanted to push this concept film as a proof of capabilities for future endeavors. The amount learned from this project can't be put into words, and served as a giant leap forward by all using these tools – there's a lot to be excited about using these new techniques, this is just the beginning.
Tecnicontrol® Credit List
---

Director: GMUNK
Managing Partner Live Action: Oliver Fuselier
Executive Producer: Robert Helphand
Producer: Wade Brandenberger
Prod. Supervisor: Joshua Jaedicke
Asst. Prod. Super: Dana Paris
1st AD: Ryan Lippert
2nd AD: Steve Bagnara
Director of Photography: Chris Probst
1st AC: Gunnar Mortensen
2nd AC: John Roney
DIT: Jesse Tyler
Motion Control Operator: Mike Leben
Motion Control Tech: Adam Francis
Gaffer: Nizar Najm
BB Electric: Julian Najm
Electric: Jake Ferrero
Electric: Anthoney Najem
Electric: Spencer Scranton
Key Grip: Eric Budlong
BB Grip: Kaiyoti Pesante
Grip: Johnny Segal
Grip: Demetrie Cooley
Grip: Chris Barnes
Grip Driver: Ed Melendez
Grip Driver: Sako Sogomonyan
Production Designer: Charles Infante
Art Director: David King
Set Decorator: Jennifer Lukehart
Lead Set Dresser: Michael King
Prop Master: Adam Jette
Set Dresser: Brian Minniti
VTR: Al Chao
Script Supervisor: Debbie Wright
Wardrobe Stylist: Olivia Hines
Wardrobe Asst: Kendal Carse
Hair Makeup: Kristin Fried
Hair Makeup Asst: Alma Diffie
Craft Service: Brandie Garcia
Gang Boss: Sebastian Zabala
Animal Trainer: Stephanie Purdy
Animal Trainer: Adriana Garcia

VT Pro Design

VT Pro ECD: Michael Fullman
VT Pro Producer: Bill Galusha
VT Pro Owner: Vartan Tchekmedyian
VT Pro Robo Tech: Harry Souder
VT Pro Robo Tech: Houssaine Waled
VT Pro Lighting Designer: Gabe Fraboni
VT Pro Touch Playback: Matt Watcher
VT Pro Animator: Art Perez
VT Pro Tech Director: Nico Yernazian
VT Pro Tech Support: Chad Burek

Method Design

Creative Director: Jon Noorlander
Creative Director: Johnny Likens
Creative Director: Rupert Burton
CG Supervisor: Boaz Livny
Producer: Bennett Lieber
Producer: Billy McMillen

The Mill

VFX Supervisor : Robert Sethi

Talent

Hero Actor: Lyn Quinn
Dog: Squirt

Cartel Editorial

Editor: Leo Scott
Head Of Post Production: Meagen Carroll
Music: SoundsRED