Twilio Beacon

May 2015 ––

The lovely people at

Twilio

hit up Munkowitz and

VT Pro Design

to create something memorable for the

2015 Twilio Signal Conference

in beautiful San Francisco. Together, they sought to build an Interactive Installation that drew the conference attendees into the experience of the event by visually responding to their text message commands, analyzing sentiment and reacting accordingly with custom, generative content.

With this interaction, they wanted to activate the participants imagination in how technology can network people together and in doing so, present the many ways to communicate through the invisible network we are all connected to – the very framework of the service Twilio provides.
---
The Twilio Beacon
–– The Centerpiece

The centerpiece of the conference was a custom-built chandelier that served as the primary visual representation of the Twilio code, and bathing the entire conference floor in a dynamic wash of color and motion. Essentially, the Beacon became a generative, physical video installation of pixel LED that represented the sentiment of the attendees, and allowed direct interaction with participants.

With its large form-factor, being 12' across by close to 25' tall, this interaction was rich in visual payoff and was a pleasure to watch excited attendees driving this large piece of LED art.. Directly below the Chandelier, the team sought to create a congregation place that further invited people to interact with each other, utilizing an LED video floor with live tracking of the users on top of it.

As a user steps onto the floor their location would be represented by a dot forming below them - once four users come into a certain close proximity with one another, each of their individual dots would digitally magnetize together to form the Twilio logo while representing the connection between each of these users. All of these components were driven by interactive media servers and tracking cameras.

At this formation of the four dot Twilio Logo the chandelier above would activate into a more animated sequence of visualized data, highlighting the connection between these individuals. This would create an exciting and vibrant center meeting point to the conference that invites people to explore and interact with one another and served as a strong visual statement throughout the conference.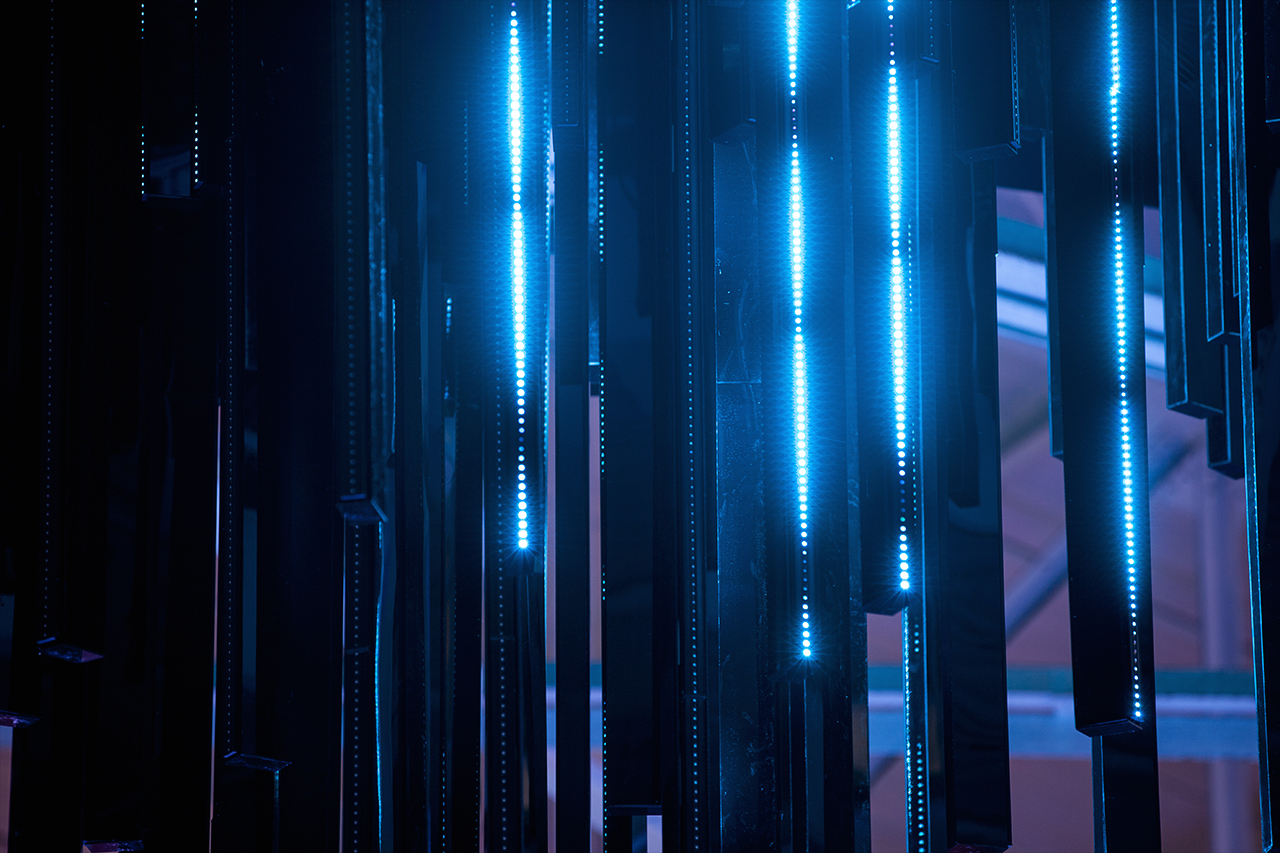 Twilio Beacon Credit List
---

Production Company: VTPro Design
Executive Producer: Vartan Tchekmedyian
Creative Director: Michael Fullman
Creative Director: Bradley G Munkowitz
Fabricators: Gist Specialties
Programmer: Matt Wachter
Programmer: Glen Snyder
Process Photographers: Alex Cornell, Taylor Wally
Process Video Editor: Alex Cornell

Client: Twilio
Executive Producer: Michele Novick
Producers: Jana Tomasello, Jana Atlas
Creative Director: Sean McBride