Tycho – See

May 2014 ––

The one and only

Ghostly International

hit up Munkowitz to conceive and direct the first Music video off

Tycho's

new album, Awake.. The track, entitled

'SEE'

is a driving, psychedelic expression of sonic artistry, and was incredibly fun to conceive a visual narrative to support the track through its five minutes of auditory bliss.

Scott Hansen

, the central figure behind the

Tycho,

has also been a world-respected graphic designer for many years, and a conference and industry colleague of Munkos. So the opportunity to collaborate with Scott and the band on a narrative beauty film was a dream come true, knowing very well that some Advanced Beauty was certainly in store.
---
The Treatment

–– Perceptual

When we first listened to

'See'

we immediately began thinking about perspective and what it means to have sight. We wanted to explore the difference between the perceived and the actual that constantly exist within each of us. We wanted to push the defined limits of vision both naturally and through technological enhancements. The resulting film presents the story of a woman living two parallel existences, expressed through rich, low-contrast visuals that complement the dreamy and lucid feel of "See".

Our female hero awakens and begins her journeys through a series of stunning environments. There are moments when we see through her stylized point of view, where her world is markedly more mystical, filled with shamanic rituals, hypnotic runes and an elusive, enigmatic stranger she summons from nature itself. The locations seem simultaneously familiar yet mysterious. Switching between these two perspectives inspires the audience to question what is real and what is fantasy, and reflect on the truth of their own senses.

Our heroine's story folds back on itself – she wakes up three times, each time in the same physical posture but in a radically different location. As she ventures forward again, her path diverges. She finds herself in new places, discovers that objects and symbols she's carried on her journey have changed shapes, and the cloaked stranger seems to know her differently. By the end, the stranger is no longer an untouchable figure she is chasing but a spiritual conduit that embraces her and pulls them both into reality, restoring vision and beginning the story anew once more.

One keystone of the video is this intensely stylized mystic worldview of spiritual energy we see through our heroine's perspective. Presented through full-spectrum as well as infrared photography, our heroine's experience has an unmistakably unique palette. We were very excited about this world of full spectrum photography and the idea of being able to 'see' things that were otherwise invisible. Using special filters we could achieve practical, in-camera effects that drive home her familiar yet otherworldly perception.

In addition to effects and environment, we distinguish our heroine's two perspectives through props. During the outset, she carries a sack full of geometric objects which on the outside seem mundane, but erupt with extruding, illuminated designs that come alive once viewed from her point of view. Though her perspective is otherworldly, we also wanted it to feel tangible, as there's no substitute for practical objects, so we crafted and 3D printed the extruding geometry, laser engraved runic patterns, and installed lights inside objects for in-camera lighting effects.

The band was treated as the interweave between the two dimensions in the film.. Visually, they're presented through a the same methods of infrared photography, providing a visual bridge while still giving us a reprieve from the intense environmental palettes. We captured the thousands of scattered, IR-visible dots emitted by an array of

Kinects,

again only 'seen' through the Infrared camera, and supplemented these patterns with laser projections that bathe the image with fill light and color.. The band footage also acts as a narrative locomotive, spurring the transition points within the story and acting as a puppeteer for the characters during their memorable interactions.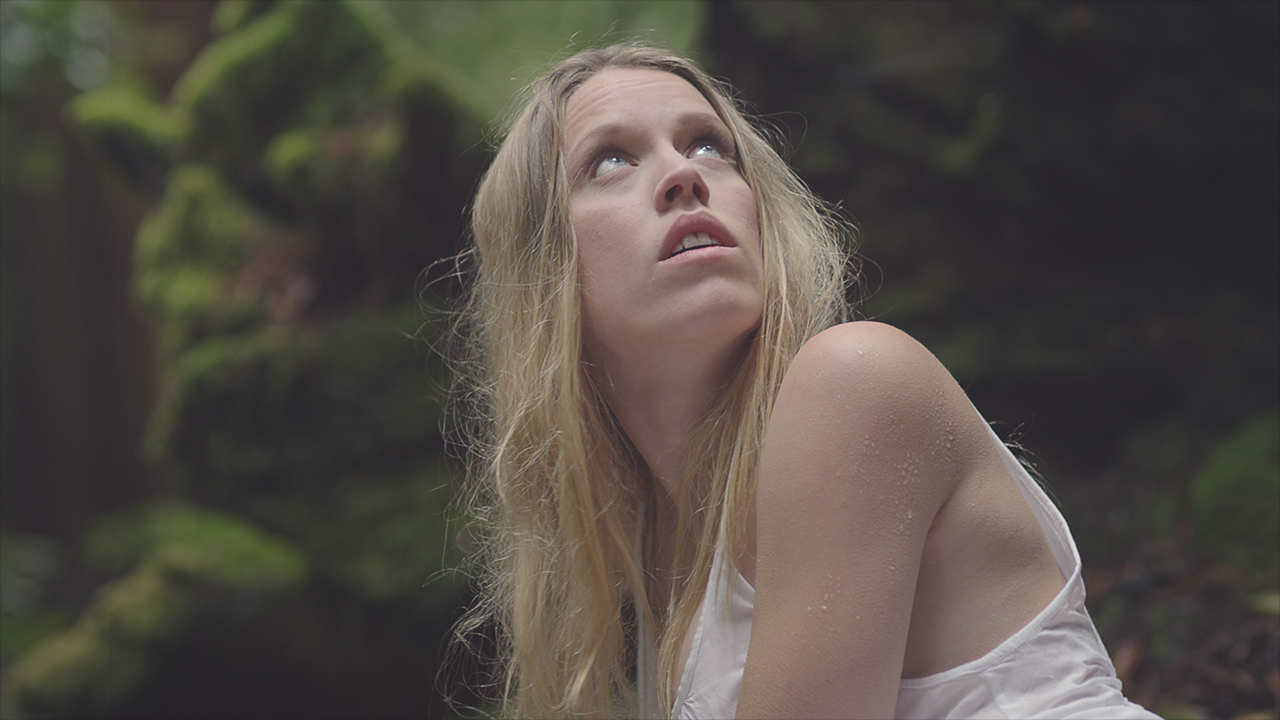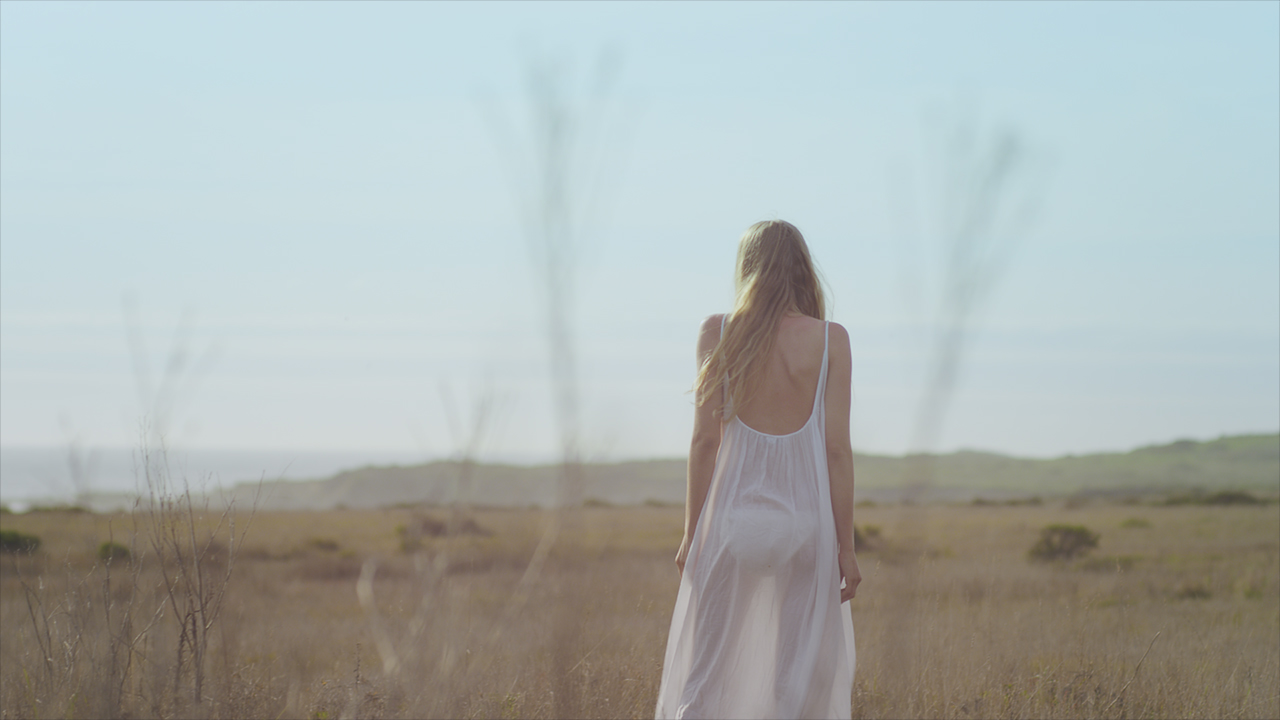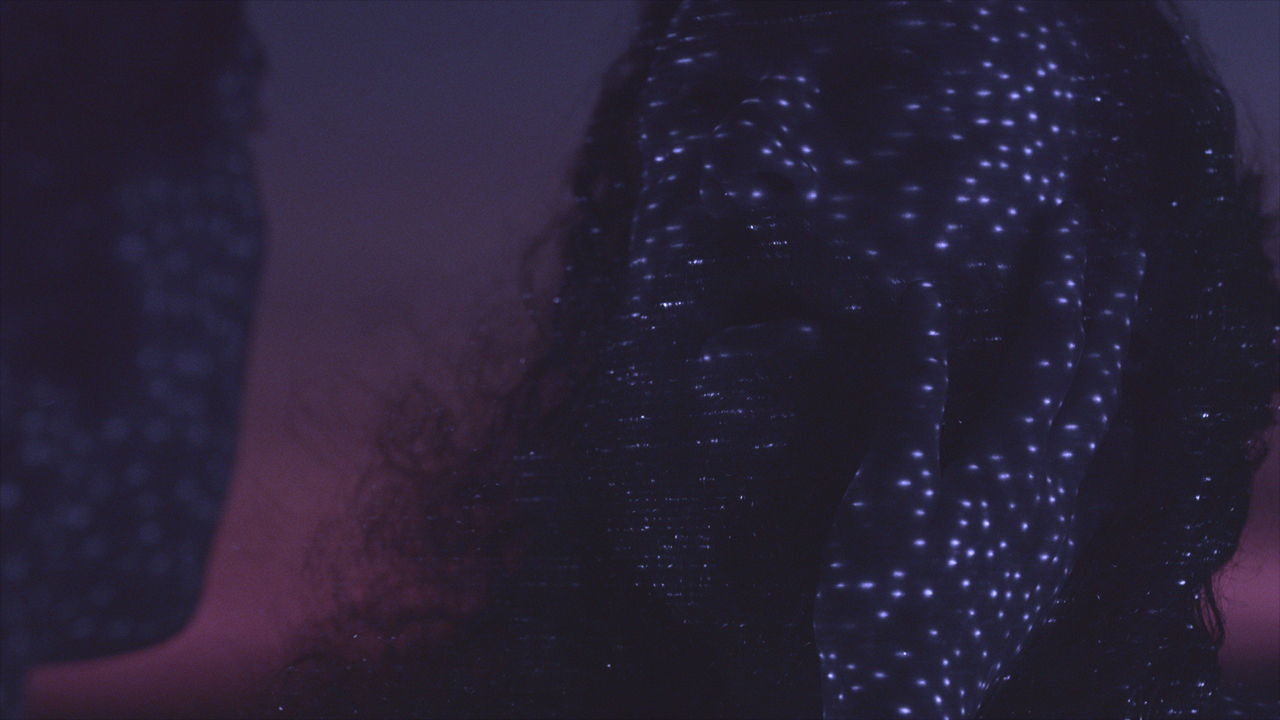 ---
Hero Mood Board

–– 03
---
The Process

–– Intensive

The process for making the film was quite intensive, as Munko & his better half

Ian Colon

( the most handsome Haitian Jew the world has ever seen ) wrote the narrative in January and then put multiple tracks in motion leading up to the final shoot in late-March.. They called upon superProducer

Andrew 'Demansky Devankeys' Devansky

to figure out how to equip the team properly on a shoeString budget - definitely a challenging task.

This process included writing the concept, casting, prop design and fabrication, negotiating modified full-spectrum cameras, location scouting, permits, shooting boards, a 2 day practical shoot, a series of full-spectrum camera and filter tests, a band shoot in a pitch black room, camping logistics, a 4-day camping trip in the woods which led to a 4-day outdoor shoot, torrential downpour at times, heaps of smiles and advanced beauty and holy shit there's an edit for that.
---
The Film Technique

–– 06

Tycho is known for a distinctive photographic-design aesthetic through his projects known as

iso50.

We wanted to run with his aesthetic and build upon it cinematically to sculpt a story. We tasked the DoP,

Doctor Joseph Picard,

to develop some unique cinematic techniques to achieve new looks in camera.

We shot the "audience" narrative — within the visible light spectrum — using a standard RED Epic camera package and de-coated zeiss super-speed standard prime lenses. We thrived on capturing majestic wide-angle shots that enhanced the beauty of our locations and complemented those shots with an assortment of textural macros and long-lens compressions to drive home an intimate experience with our characters.. The de-coated lenses brought us very close to the "Tycho aesthetic" in-camera.. The lenses gave us creamy lifted shadows with muted yet saturated colors, distinctly rich bokeh, and pools of soft focus with crisp focal points. This was a great starting point for our colourist at Glassworks to take it to another world.

We captured the infrared "POV" narrative through the usage of infrared and full-spectrum photography, we custom modified a second RED Epic camera to enable this unique aesthetic. Placing stylized filters over the lens gave a dreamy, highly-affected look that emphasized we were looking through our heroine's eyes. Lastly, in grade we experimented greatly with channel mixing and advanced processing to render a variety of remarkable looks.

We had the guys at Keslow Camera dig out all their old filters from the black and white film days. We used some of the most saturated ones we could find to shift the visible part of the spectrum in a different direction from the infrared colors to create more color contrast and emphasize the surreal nature of our character's vivid trip.

We wanted to create a whole new look with which to shoot the band, something that would tie the story together.. We started experimenting with infrared lighting and discovered that the IR emitter in the Microsoft Kinect projects a starfield-like dot pattern not unlike what a 3D render of point cloud data looks like; with our full spectrum camera it became photographic.. Some of the lens flares we were able to make with the Kinect are unlike anything we've ever seen before - creating super dense moire patterns and 3D-like caustic inversions of lens geometry. The set was totally dark, aside from a red laser - we could not see anything except while looking through the cameras viewfinder. Operating a camera in this situation was like a real manifestation of virtual reality. The band also couldn't see each other and couldn't tell who or what the camera was looking at - which ultimately made the performance feel very raw.
---
The Props

–– 07

Ultra-Talented

Conor Greeble

and

Mike Williams

handled all of the practical builds for the piece, crafting minimalist geometric props that were designed in 3D and then manufactured in the

Autofuss

wood shop.

For her POV shots, they wanted the props to become more surrealist and illuminated, so they fabricated them to have LED's floating between the layers of wood - which they had good friend

Marek Michalowski

assemble some circuitry that allowed them to pulse and come to life.
---
The Practical Effects

–– 08

They also experimented with an array of different practical effects to generate the visuals for the triangle and circular tunnels.. What was used in the video is a video projector pointed at the camera with some laser cut acrylic shapes directing the light, and of course heavy amounts of haze and light being informed by animated graphic patterns.

They ended up creating massive library of practical footage based on

Tycho's signature shapes,

utilizing a variety of techniques such a burning Steel Wool embers through a chrome tube, heaps of chemical reactions and some spinning embers to create circular volumes, in addition to the projection tunnel techniques.. Sadly, not all of the footage was used in the edit so

Connie Kim

put together a super-smoove edit of what was hot, and a thorough breakdown up in his

Bedtimes.xxx
---
The Locations

–– 09
Being that Scott himself has Northern California roots, we wanted the story will be told using three iconic locations in the region - the beautiful redwood forests of
Big Basin Redwoods state park
, the lush golden field of
Ano Nuevo
and the stunning beach setting of
San Gregorio
.
All three locations provided a uniquely saturated color palette, atmospheric lighting and rich texture that was definitively in the Tycho aesthetic. In addition, the lush vegetation of each location accentuated the infrared photography, and amplified the contrast between 'Audience' and POV stylings and vibrations.
---
The Colour

–– 10
Munko's super Rep Mr. Michael Stanish of
Ground Ctrl
hooked it up with one of the best young colorists in London,
Matt Hare
out of
Glassworks UK
. Together they rocked a heavily stylized grade, coming up with an ultra Tycho-faded color treatment and then pushed the Full-Spectrum Photography to a properly surrealist place, where color combinations that couldn't possibly exist together came through with proper definition.
This colour session, along with some Flame love from the Legendary
James Mac
were the main post ingredients that took the piece to where it needed to go.
---
The Memories

–– 26
Creating "See" was nothing short of an epic thrill ride. Having a crew so passionate and dedicated made camping in a torrential downpour, crossing rivers with thousands of dollars worth of gear, and generally traversing blistering conditions the entire weekend a pure joy because of the comraderie.

The small crew believed that energy and dedication had a huge impact on the end result and the feelings the film would evoke in its audience. It was definitely one of the richest collaborative projects that munko has ever been a part of – the Quattro™ and them memories shall live forever.
Tycho - See Credit List
---

Director: GMUNK
Assistant Director: Ian Colon
Executive / Line Producer: Andrew 'Devankeys' Devansky
Concept: Bradley G Munkowitz, Ian Colon, Joe Picard
Director of Photography: Joe Picard
1st Camera Assistants: Magaera Stephens, Noah Hassie
2nd Camera Assistants: Dakota Wilder Smith
Grips / Lighting: Tej Verde, Dakota Wilder Smith, Patrick Walsh
Props design and fabrication: Conor Grebel, Mike Williams
Practical FX design: Conor Grebel, Mike Williams
Lead Actress: Hannah Helena Bjørnø
Lead Actor: Eone Darke n' Cray
Costume Designer: Jasmine Hamed
Makeup: Melissa Capistrano
Production Company: Ground Control UK
Executive Producer: Michael Stanish
Editors: Bradley G Munkowitz, Ian Colon
Post Facility: Glassworks UK
Colourist: Matt Hare
Flame Artist: James MacLachlan
Process Photography: Dan Cowles, Maris Curran, Dakota Wilder
Process Editorial: Cyrus Tabar
Camera Rentals: Chater Camera, Keslow Camera
Equipment Rentals: Little Giant Grip & Electric
Extra Special Thanks: Ground Control, Autofuss, Bot & Dolly, Ghostly International, Scott Hansen